This webinar will be presented by our experts with support from our regional teams to address your unique needs and challenges.
June 30th, 2pm BST (London)/ 8am CDT (Houston)

July 1st, 3pm (Kuala Lumpur/Perth)
What we'll discuss:
Traditional subsurface workflows are usually performed using full-featured software packages that are typically single discipline and do not allow for collaboration. These packages aim to provide comprehensive functionality related to specific disciplines (QI geophysics, PPFG, etc.)
Because building an effective subsurface model requires input from multiple disciplines, there was a disconnect when only specialists could access data. In the modern world, it is becoming increasingly obvious that the wider team of geoscientists do not require full-featured software packages, and in fact the nature of these packages ends up slowing down workflows, as users grapple with expensive, complex software that they rarely use. What they require is targeted functionality supported by data that is easy to use, backed up by the knowledge and interpretations from the work of specialists.
Here we present a new way of working, where targeted, intuitive, user-friendly apps are supported by curated data and the input from specialists ensuring consistency while optimizing resource development time and costs.
Meet the presenters: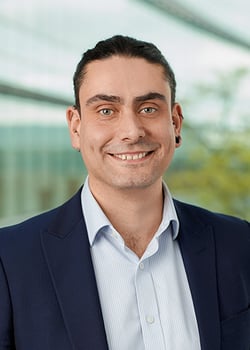 Dr. Alex Edwards
Product Manager for Pore Pressure and Geomechanics Applications

Over the years, Alex has worked on, and overseen, many pore pressure and geomechanics projects covering all technical aspects of these domains (regional analysis, field evaluation, pre-drill real-time and post-drill analysis) across many different geological settings (uplifted basins, extensional basins, compressional basins, deep-water, carbonate systems and onshore). Alex is also highly involved with geopressure research and is extensively published, having written many technical papers, conference abstracts and book chapters on pressure and stress related topics.
Before joining Ikon in 2009, Alex received a MESci in geology (2005) at the University of Liverpool and a PhD in structural geology at the University of Manchester. Alex is part of the team of trainers within Ikon responsible for pore pressure theory training and RokDoc software training.
Nick Huntbatch
Product Manager for QI Applications

With over 10 years at Ikon, Nick has held various roles including Software Support, Senior Geoscientist, Quantitative Interpretation (QI) Team Leader, and Technical Sales Manager for Europe and Africa. His current role as Product Manager for QI Applications, involves defining and managing the development strategy for RokDoc and Ikon's new knowledge management platform Cutate. This includes the maintenance and communication of the product roadmap, product positioning and competitive landscape.