Overview:
In this webinar, Kester Waters will provide insights from an integrated rock physics and geopressure study which was performed on 35 wells across the Central North Sea area. This one-hour webinar will be presented with local experts available to discuss the unique needs and challenges within the region via a live Q&A.
Thursday, June 17th, 2:00pm BST (London) / 8:00am CDT (Houston)
What we'll discuss: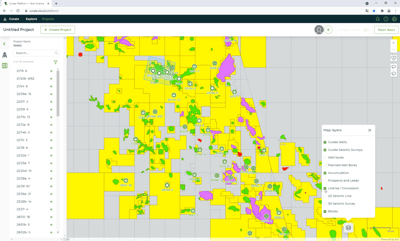 The Central North Sea (CNS) is a mature hydrocarbon province, with extensive existing oil and gas production and associated infrastructure. Over the past 5 decades, the CNS (and broader area) has seen some world class discoveries in world class reservoirs, many of which continue to produce hydrocarbons at commercial levels for decades. Many of these fields see cumulative production which far exceeds the original reserves estimates, but often, explanations are hard to come by. With the continuing backing of exploration from the UK government, which is required to support the ongoing energy transition and requirement for low carbon, locally sourced oil and gas, exploration will (and must) continue in and around the CNS and UKCS. Exploring in a mature basin requires high levels of integration and leveraging of existing knowledge, but at the same time also requires new thinking and application of new technology.
In this presentation, we provide insights from an integrated rock physics and geopressure study which was performed on 35 wells across the Central North Sea area. We demonstrate how these integrated models can be used to improve our understanding of the seismic response, to delineate or purposefully seek new reservoir and hydrocarbon accumulations in specific play types and where and why certain play types or characters may not be detected using seismic. We demonstrate how the integration of pore pressure into the rock physics analysis workflow allows predictive models to be developed that can help to reduce risk in the deep, HPHT parts of the basin and how all of these models can be combined to provide an effective tool for screening of potential leads and prospects. Finally, we will demonstrate how new technology is unlocking the knowledge in these types of studies and delivering enhanced value to geoscientists exploring in these types of basins.
Meet the presenter:

Kester Waters
Senior Vice President, Global Services
Managing Ikon Science's Global Services business, Kester Waters leads our mission to help customers worldwide reach specific business goals by optimizing Ikon's solutions and applying deep industry expertise. Kester is a geoscientist with 20 years' experience in geology, geophysics and petrophysics. Since joining Ikon in 2004, Kester has been involved in over 200 interpretation projects spanning many of the world's oil and gas producing sedimentary basins – involved in both operational and non-operational aspects of exploration and development drilling, determining workflows and techniques for the integration of geological and geophysical data and developing predictive models for drilling risk reduction. In 2016, Kester became Global Portfolio Manager of Ikon's Reservoir software, responsible for product development. Prior to joining Ikon, Kester was an exploration geologist for Virgo Energy.
Kester has written numerous technical articles on seismic inversion and reservoir characterization and the importance of regional studies for successful exploration. In 2017, Kester was awarded Hart's special meritorious award for engineering innovation for his contributions to the development of Ikon's flagship Joint Impedance and Facies Inversion (Ji-Fi) software.