Overview:
The world is changing. In recent months, we have seen unprecedented changes to the Oil and Gas industry landscape. To survive, companies need to transform with the industry to meet these 'new world' challenges head on. Operators need to think innovatively to balance long-term opportunity against short-term uncertainty. Technology and innovation is going to be the gateway to that change. But it is also going to require a transformation of data, processes and culture while still dealing with today's operational challenges.

For 20 years, Ikon Science has been there as your partner. During this session, we'll talk about how Ikon can help you prepare for the transformation currently underway across the energy industry.

Date : Monday, October 12th, 11.15am (CDT)
What we'll cover:
Denis will be covering the state of the industry and how knowledge management will be the gateway to solve E&P's challenges. He will also be discussing our services, solutions and the additional ways we are working to support our customers and the industry in these uncertain times.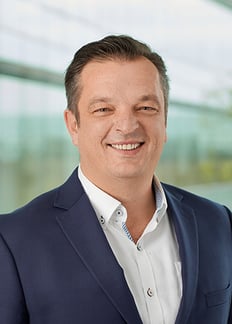 Dr. Denis Saussus, Chief Executive Officer
Denis was named as the CEO of Ikon Science in April. He has held numerous positions at the company including Chief Technology Officer, VP Software Development and VP Global Development.
Denis has over 15 years of expertise in various aspects of software commercialization – from software research and development to project services work, client support, course development, team management, project management and strategic marketing. Denis has published widely in journals and conferences around the world.