After a very disrupted 2 years, we are pleased to meet you all again at this year's PETEX in London. We have been very busy working to bring you the latest innovations in subsurface geoprediction as well as our brand new knowledge management solution, CURATE.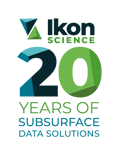 With a lot of changes across the industry, we're pleased to show our continuing support for our clients and subsurface innovation by celebrating our 20th anniversary this year. We will be offering some special gifts on our stand to mark the occasion so come by and see us.

On our stand we will be sharing a number of presentations:
Day 1
The Morning break will feature "Integrating Rock Physics into Pore Pressure Prediction" presentation with Dr. Sam Green, Technical Manager, Wells - EMEA.

Our Lunch and Learn will spotlight CURATE our new knowledge collaboration platform with use-cases with some major global clients presented by James Tomlinson, Product Manager - Data Solutions

Our

Afternoon Break

we explore Extended Elastic Impedance (EEI) For Exploration why we need to use it for exploration, generation of elastic logs and some techniques of calculating Chi angles as well as a demonstration of the workflow in RokDoc.

Day 2
The

Morning break

will feature "

Repeatable, Objective, Consistent – Rock Physics Machine Learning Toolkit for Facies Inversion of Log Data"

with Kester Waters, SVP - Services.
Our

Lunch and Learn

will spotlight the latest RokDoc release with some of the new features you may have missed over the last 18 months as well as those coming in our December release with Ana Somoza, Customer Care Team Manager.
Day 3
The

Morning break

will feature "

From Screening to Abandonment – Workflows for an Emerging Carbon Capture Industry"

with Kester Waters, SVP - Services

Our

Lunch and Learn

will dig into Re-using Existing Wells for CO2 Storage with Ed Hoskin, Technical Manager, Wells - EMEA