Overview:
The discussion of digital technology in our industry involves many terms — AI, big-data, process automation, to name a few. Such terminology is ubiquitous, but the digital revolution in our industry still slow; why? From a technical perspective, simply too many dry holes are still drilled. How do we improve these rates of return? Many prospects fail due to absence of reservoir, missing trap, and/or lateral seal, and these are the basics of geological and geophysical interpretation when evaluating prospect risk. Simply throwing data at the problem and applying analytics will not improve the chance of success. What is required in order for increased uptake of digital technologies is a substantial change in the application of workflows and best practices.
One intriguing area is the ability to communicate expert knowledge to a wider audience by ensuring availability of all data types in an integrated manner, making suggestions of required data, providing smart assistance to aid/improve QC, keeping logical project tracking, and having the ability to apply 'what-if' scenarios to capture geological uncertainties.
What we'll cover:
We present a pragmatic approach to the digital revolution, underpinned by workflows. Ultimately the requirement for successful prospect evaluation must be conducted based on good technical work across multiple disciplines (e.g. geology, geophysics, engineering, risk analysis and economics).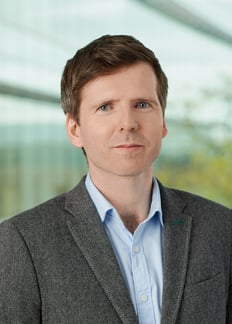 Nick Huntbatch, Product Manager, QI Applications
Nick joined Ikon Science in 2008, and is the Product Manager, QI applications. During his time at Ikon, he has held various roles from software Support, as a Senior Geoscientist and Team Leader within the Quantitative Interpretation (QI) team, and as the Technical Sales Manager for Europe and Africa.
His QI expertise includes; rock physics, quantitative seismic-well ties, seismic inversion and seismic reservoir characterization. He also has experience with 4D rock physics, and 'sim-2-seis' workflows. He has global experience having worked in many different hydrocarbon provinces around the world, including extensively in the North Sea, Norwegian Sea, Barents sea, West Africa and Newfoundland and Labrador.
His current role of Product Manager, QI applications involves defining and managing the development strategy for all applications related to Quantitative Interpretation (QI) geophysics at Ikon Science. He also regularly presents at technical conferences.

---
Live Q&A with Monica Beech, Product Manager Data Management & Visualization Apps, and Chris Hanton, Product Manager Data Solutions.